G*Star 2010: Nitrozen Is To Reveal New Action SCI-FI MMORPG L.A.W.
Tuesday, November 2, 2010
G*Star is an annual Korean trade show for the computer and video games industry  (something like E3 for the Western world) that is to be held in late November, and L.A.W. stands for Living After War – an upcoming Sci-Fi Action MMORPG by Korean developer Nitrozen, that had been announced a year ago. Nitrozen is a new company, that had not released any titles before L.A.W., but it was founded by Jang Wook Lee – the guy who was a lead artist in Blizzard's mega hit Diablo 2. And Nitrozen is going to officially reveal L.A.W. at G*Star this November.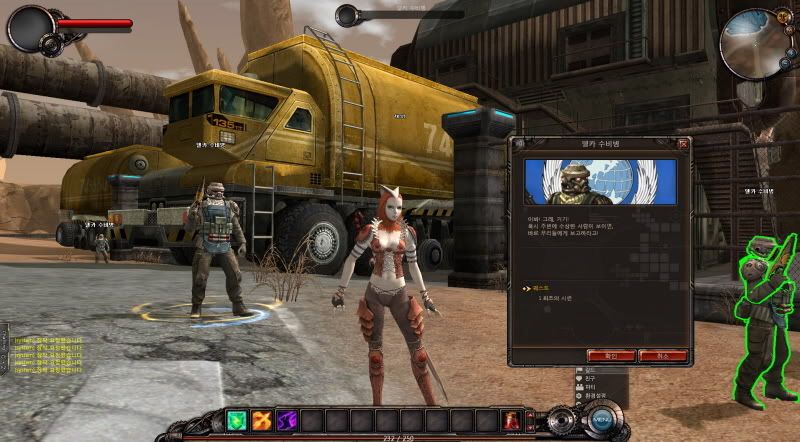 Living After War is set up in a world that is living through the aftermath of a nuclear war that happened in 2350 and went terribly wrong (and how a nuclear war couldn't went wrong, i wonder?). It is known for now that players will be able to play with two different races – the Humans, who survived the catastrophe, and Nak – the descendants of those humans who had mutated after the war. Also, there are two factions that are hostile to each other (i think, we can safely guess who is who there). The plot is that Earth had endured a 300 hundred years long nuclear winter, and a certain amount of humans had fled to spaceships to sleep it over. When they wake up they find that mankind had not yet perished, but rather mutated into Niks, who had build up their own society by them.
There will be at least 3 classes, and both races will have all of them. They are Warrior, Ghost and Esper. Warriors are those typical tank-melee character, have high attack and defense stats and use heavy melee weapons. Ghosts are analogue of thieves and archers – they use long-distance and hidden attacks with daggers. And Espers are playing the healer-mage-summoner role here. The name comes from "esper" energy that is used for healing, mind-controlling and summoning of a combat robots.
L.A.W. artwork reveals that there will be a lot of transport and other realistic technical models. And this screenshot with a chick in strings are suggesting that L.A.W. is going to step into Lineage2's audience of young males with no real life and grab a piece of this cake. I hope Nitrozen won't screw it up.
Well, there aren't that many MMORPGs that has anything to do with Sci-Fi theme – and fewer of them are good – so let's cross our fingers on this one and hope that chicks and strings will not be the only reason for anyone of you to play this game.